Self-Service Dog Wash
Information and Pricing!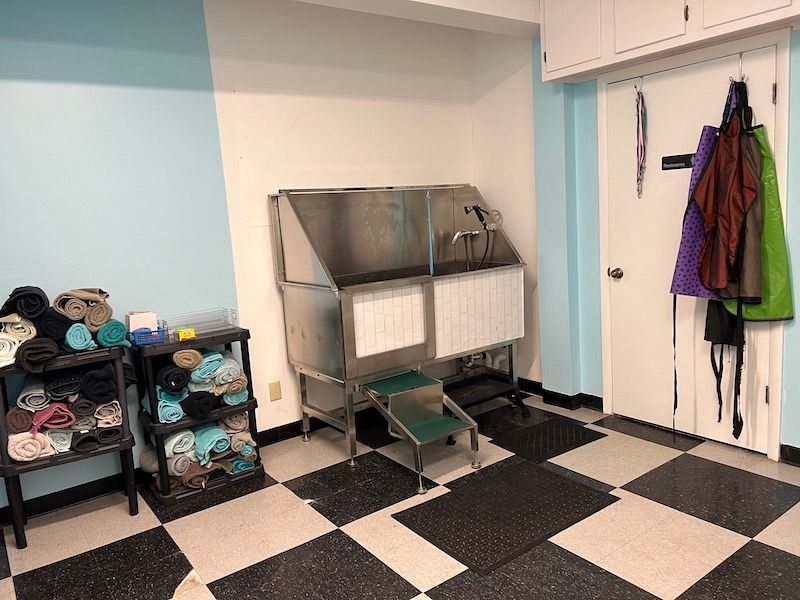 Our self-wash at Roo's Holistic Pet Supplies is located in a closed room in the corner of our large facility. There is a door to offer privacy and security for you and your dog! The tub is a professional grooming tub, reinforced by our construction team to hold a 250 lb dog! Our self-wash is open Monday, Tuesday, Thursday, and Friday from 12 to 6pm, and Saturday from 10am to 3pm. The cost is $16 per dog for one hour of use, $12 for dogs under 7lbs. That price includes professional pet shampoos, towels, professional high-velocity dryers, bathing aprons, instructions, and clean-up! Use is first-come-first-serve. Feel free to call ahead to check if the self-wash is open, reserve the next spot (we will hold the tub for 15 minutes for you to arrive), or to add your name to a waitlist! We are so excited to offer a self-wash station and want everyone to be safe and happy with the experience! Want to see it first? Come on it and ask for a tour!

Guidelines for Roo's Self Wash
Maximum of two dogs allowed in the self-wash area unless under 10 lbs and crated.
Do not leave any pets unattended at any time in the self-wash area.
Do not allow any pets to leave the self-wash area without being leashed.
Do not bring any pets that are aggressive unless they are muzzled during the entire process.
Do not bring any animals exhibiting symptoms of coughing, diarrhea, vomiting, nasal discharge, or other illness.
Do not take any shampoos, towels, or other materials out of the self-wash area.
Our staff is strictly prohibited from lifting, bathing, drying, or holding your pet at any time.
No persons under the age of 18 can use the self-wash area unattended.
If your pet pees on or eats anything in the store, you are responsible to pay for it.
You must sign the liability agreement before using the self-wash.
WHAT Muncie CUSTOMERS ARE SAYING
Don't just take our word for it - see why pet parents from Muncie and surrounding areas choose us, including Anthony, Royerton, Desoto, New Castle, Pendleton, Anderson, Yorktown, Selma, Alexandria & more!
Come visit our pet supply store in Muncie, IN specializing in quality food, treats, and supplies for cats and dogs.